John Robert Parker Ravenscroft, OBE (30 August 1939 – 25 October 2004), known professionally as John Peel, was an English disc jockey, radio presenter, record producer and journalist. He was the longest serving of the original BBC Radio 1 DJs, broadcasting regularly from 1967 until his death in 2004.
John Peel was like the father I never had. His radio shows at 10pm from Monday to Friday on Radio 1 didn't just keep you awake – they educated you.
Only Peel could play records the wrong side or at the wrong speed and then brilliantly dig himself out of a hole like he did – spectacularly.
And how many teenagers (and perhaps folk way more advanced in years than that) invented their own festive fifties?
Legend and national treasure, John would have turned eighty today had it not been for his untimely passing in 2004.
Keepingitpeel on Twitter are having quite a day of Peel celebration and memories and I wanted to include bits of that in this tribute with this Guardian review of his autobiography.
John Peel's wife Sheila Ravenscroft completed Margrave of the Marshes after he died – and has produced an immensely compelling portrait, says Simon Garfield
Margrave of the Marshes
by John Peel and Sheila Ravenscroft
Bantam Press £18.99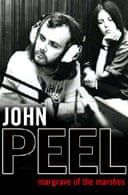 Almost a year ago, John Peel's memorial service seized up a town. The bewildered police in Bury St Edmunds had expected hundreds of people, not thousands, and the cathedral was full more than an hour before his family arrived with the coffin. Those of us left outside in the drizzle who believed they had left home in plenty of time were forced to reflect that perhaps John had not been talking to us alone after all.
As the funeral progressed, the Radio 1 website filled with the sort of emotion not usually evident when an important British broadcaster passes away. People who had never met him wrote of how much he meant to them, and how he got them through a difficult period in their lives. Many messages had an intensity that would have driven Peel to helpless tears. It was difficult to explain precisely what had caused this outpouring – something that continues this month with many anniversary tributes. But it was clear that it wasn't just about playing challenging records late at night or revealing complicated domestic situations on Saturday mornings. It may just be that he achieved effortlessly from the start what most presenters never achieve in their entire careers: a personal relationship with the listener that made us believe we were hearing from a friend.
His autobiography was well under way by the time he died of a heart attack in Peru at the age of 65, but his life and his account of it was so full of diversions that he had not yet reached the point where he had spun a record on air. In fact, he had only just lost his virginity. Peel would thus have referred to this book as a game of two halves: his own story of his school days and national service followed by his wife Sheila's report of his subsequent career and family life. Each section has its own pleasures and limitations, but jointly they may have created a publishing first: the patient and analyst in one immensely compelling volume.
Longstanding readers of this newspaper's review pages will remember Peel as an original and humorous writer, but may be surprised at how well he had grasped this longer form. The narrative is chronological, but it is informed by more recent asides; his teenage traumas, for example, are followed by tales of the middle-aged female fan who was convinced the famous Peel lived in a commune in Baker Street with Lou Reed and Stevie Wonder (Peel played along with this, informing her how he dreaded the weeks when it was Stevie's turn to cook). In other words, we do get glimpses of his wonderful future career to redeem the tales of masturbation, bullying and all-round teenage desolation.
There was not much warmth in his Cheshire childhood home, certainly not from his parents. Peel was born a few days before the outbreak of the Second World War, and he didn't see his father until it was over. He remained a distant figure on his return, and his son recalls his fondness for regular bowel movements and his dislike of hugging. His mother is described vividly in terms of her fondness for the solitary consumption of romantic fiction and wearing embarrassing outfits whenever in the presence of his schoolfriends. His parents divorced when John was in his teens, and much later his mother hooked up with the actor Sebastian Shaw, who played Darth Vader in Return of the Jedi.
His mother regularly administered domestic beatings when John was perceived to have erred, something that stood him in good stead when he became a boarder at Shrewsbury. Peel, still known then as John Ravenscroft, was not the academic type, and his school reports display nothing but despair. Yet he was a handsome youth and his study monitors found him irresistible. His account of servicing these boys and being buggered by one of them in a cemetery toilet has already made headlines, although he writes about it with more of a shrug than a howl, as if he was reading a favourite dismal lyric by the Smiths. Indeed, with a couple of exceptions, most of his writing has a soft, forgiving tone: he even finds an agreeable side to Tony Blackburn and Chris Moyles; the worst he can say about pop stars is that Sting is 'tiresome'.
After boarding school, national service held few horrors. Peel's half of the book ends in the United States, but it is clear his heart isn't in his insurance job. His time is split fairly evenly between meeting John Kennedy and Nixon on the campaign trail, seeing a stripper called Chris Colt, The Girl with the 45s, and pursuing his burgeoning taste for obscure rock'n'roll and blues.
His flash-forwards contain anecdotes he has told so many times that he is almost apologetic about recounting them again, although they all bear publication. We get the first time he heard Elvis, on Two-Way Family Favourites, the fanaticism for Liverpool FC that led to the middle-naming of his children Anfield, Anfield, Shankly and Dalglish, and the Bay City Rollers gig at which Tony Blackburn was escorted across a lake by a Womble ('Look on this and marvel,' Peel murmured to Johnnie Walker at the time).
It is left to his wife and children to take the story on, and explain the reason for the crowds at the funeral. It is the closest thing to a 200-page love letter that we may read this year, but its subject would have been appalled if his faultlines weren't also on display. His huge influence on the musical tastes of two generations is handled well, but it's the disclosure of his great sensitivity and private doubts that provides the most rewarding insight. Domestic life in Suffolk was chronicled by Peel on Home Truths on Radio 4 (often in a little too much detail for his children), but there were only hints that he considered himself an inadequate father. Sheila writes of his distress at being absent so much when his children were young, to the point that he confused their names; he regarded even 10 minutes' quality time with them each day as an impossible goal. And then there were his unpredictable and occasionally raging moods that would send his children scurrying for shelter.
The second half draws heavily on Peel's diary entries and published writing, and there are some wonderful and woeful surprises, not least his soft spot for Status Quo and the details of his disastrous first marriage to an underage girl in America. It was intriguing to discover how often Sheila's own reminiscences are framed with a similar phraseology to her husband's (she writes of the 'dimly lit corners of the internet' where there are sites dedicated to his on-air gaffes). The title of the book is the title Peel jokingly conferred on himself in his grander moments at home; a possible alternative was If He Ever Hits Puberty, an expression his Radio 1 producer John Walters used to employ with regularity ('If John ever hits puberty, we'll both be in trouble … ').
The book ends, bravely I think, with lists of events Peel sent to his literary agent for possible inclusion in an autobiography before a deal was signed: 'Terror at attending Desert Island Discs anniversary do in ill-fitting suit … an exhibition of awful Japanese paintings with Samantha Fox and Shirley Williams for Gloria Hunniford on TV … anecdotes (unflattering) about visits to Peel Acres by Sue Cook (who broke our electric blanket) and Bob Geldof.' All of which would have made this a longer, increasingly eccentric but probably no more delightful book.