FULL-TIME: 0-0
90′ Mullings reaches the corner, heads it away and the referee blows his full-time whistle.
90′ (+1) The ball is initially cleared but the ball falls behind for another corner.
90′ There will be two minutes added time.
89′ Powell takes but Thomas does well to clear the danger.
88′ Great work from Powell and Panayiotou wins a free-kick in a dangerous position.
'86 Chorley 0 Ebbsfleet 4 (Morgan 86)
'78
  Stead (Harrogate – handball)
Very good turnout for midweek but really worried that our drummers are not going to games now plus haven't heard any singing from Shots fans at all
81′ MATCH ATTENDANCE: 619 (193 away fans)
ATTENDANCE ANNOUNCEMENT: 619 (six hundred and nineteen)!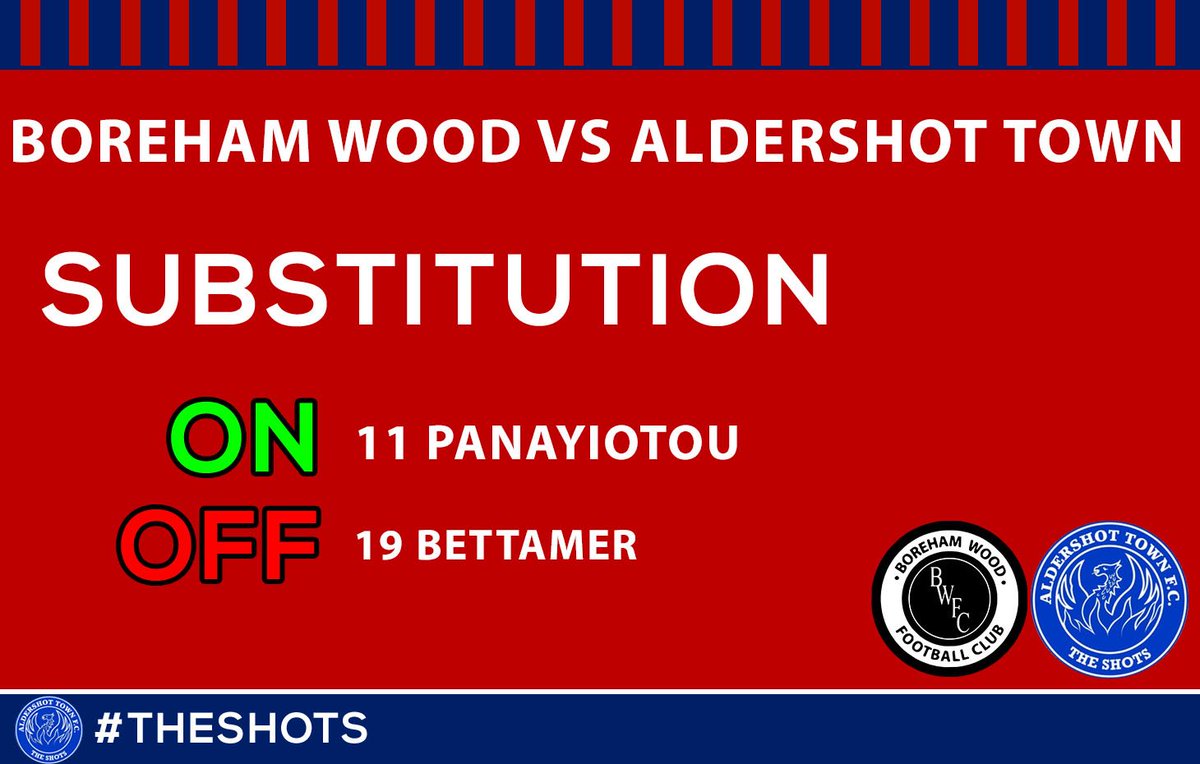 73′ Great move sees Mullings through him but the ball gets caught in the grass and is unable to get a shot off on goal.
'73 Woking 0 Notts County 4 (Boldewijn)
'72 Dover 3 Eastleigh 1 (Effiong pen)
'73 Maidenhead 1 AFC Fylde 1 (Byrne)
70′ CLOSE! Powell's audacious volley almost chips over Ashmore and hits the Boreham Wood crossbar!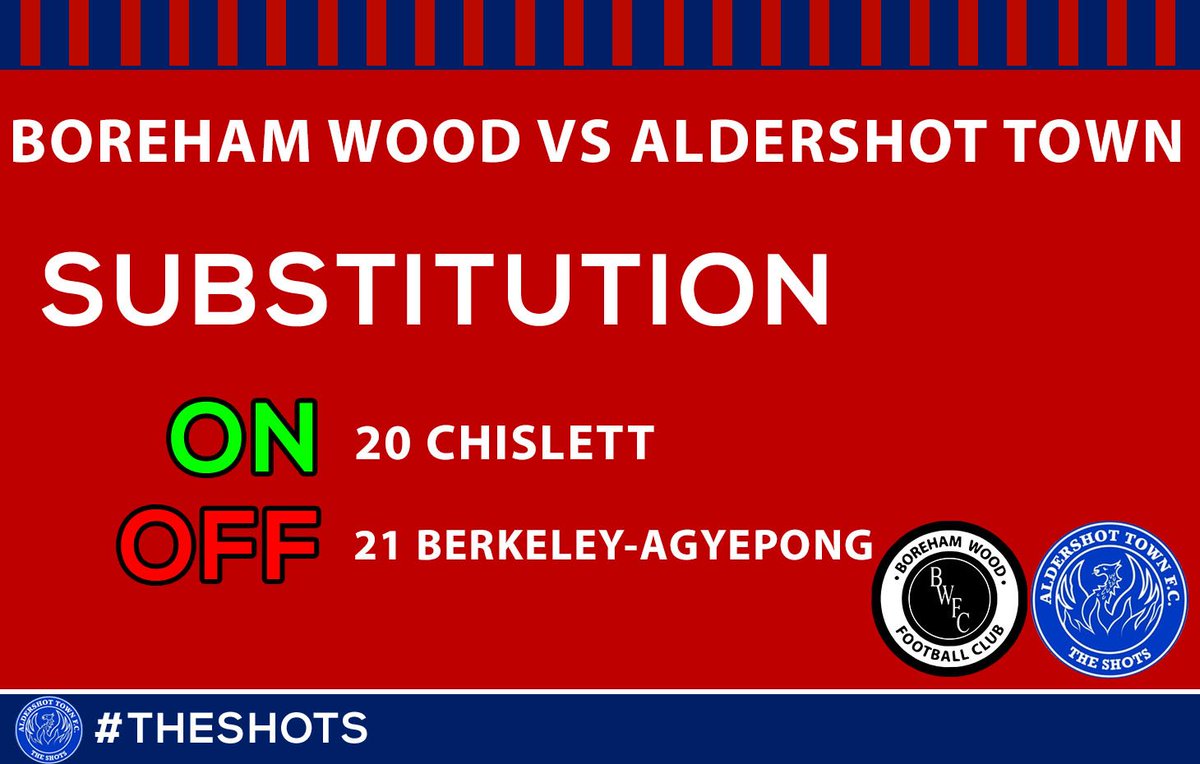 65′ Boreham Wood win a free-kick in a dangerous position but Aldershot Town deal with the danger and clear their lines.
  Tinkler (Aldershot) and first half, Rance (Aldershot)
63′ Powell takes but it's well dealt with by the Boreham Wood defenders.
62′ CLOSE!  Great move from Aldershot sees Berkeley-Agyepong's strike well-parried away from Ashmore and behind for an Aldershot corner.
'61 Dover 2 Eastleigh 1 (Barnett)
'60 Chorley 0 Ebbsfleet 3 (Ugwu)
'60 Woking 0 Notts County 3 (Thomas)
59′ Good defending from Tinkler sees a promising Boreham Wood attack ended.
'56 Torquay 1 Wrexham 0 (Davis)
'53 Sutton 0 Halifax 1 (Duckworth)
50′ Mo Bettamer tries his luck from distance but doesn't catch the shot quite as he'd have liked.
49′ Ricketts climbs highest but his header rebounds off the post.
48′ Corner to Boredom Wood after good work down the right-hand side.
'48 Maidenhead 1 AFC Fylde 0 (Kelly)
HALF-TIME: Boreham Wood 0 Aldershot Town 0
45′ There will be two minutes added time.
45′ Walker clears and the danger is ended.
45′ Boreham Wood win a corner after good work from Finney down the by-line.
44′ Aldershot Town do well to prevent the shot but the chance is called back for a foul.
'43 Chorley 0 Ebbsfleet 2 (Ugwu)
39′ The player in question was Champion but he is back on the pitch and able to continue.
'37 Bromley 2 Stockport 2 (Miniham own goal)
'36 Harrogate 2 Barnet 1 (Tutonda)
38′ A stoppage in play as there is a Boredom (sic) Wood player down with a head injury.
'34 Bromley 1 Stockport 2 (Walker)
'30 Dover 2 Eastleigh 0 (Effiong)
30′ Great link-up play between Mullings, Berkeley-Agyepong and Bettamer sees the latter's flick inside the box well-held by Ashmore in the Boredom Wood goal.
27′ Powell takes but the home side do well to clear their lines.
26′ Corner to Aldershot after a good run from Lyons-Foster
'25 Dagenham & Redbridge 0 Barrow 2 (Quigley)
'24 Bromley 1 Stockport 1 (Osborne)
'18 Bromley 1 Stockport 0 (Hackett-Fairchild)
'18 Woking 0 Notts County 2 (Thomas)
'18 Harrogate 2 Barnet 0 (Smith)
'17 Dover 1 Eastleigh 0 (Gobern)
'15 Harrogate 1 Barnet 0 (Muldoon)
'13 Dagenham & Redbridge 0 Barrow 1 (Angus)
11′ A great challenge from Hunt ends what looked to be a promising Boredom Wood attack.
9′ Thomas tries his luck from range but his deflected effort is well-held by Walker once again.
'7 Woking 0 Notts County 1 (Boldewijn)
'5 Chorley 0 Ebbsfleet 1 (Ekpiteta)
5′ Aldershot Town respond with a drive from Mullings but his effort is well-held by Ashmore.
4' First effort of the game falls to Thomas but his looping header is easily held by Walker.
19:45pm
Rob thinks the crowd will be below 1000 but says there are around 150 Shots fans there.
19:34pm
Santos is on the bench apparently – it just wasn't on the jpeg – listen to the PA announcing the home team – absolutely nothing from the home crowd – haven't heard any Shots fans either though yet.
19:21pm
Can hear Rob Worrall on the mic now, audio from BBC Surrey has only just kicked in. It does sound like Rob is on the phone to someone as I can't hear anyone else!
18:55pm
Now that's had time to bed in and the choruses of "what the fuck is going on" have subsided, my guess is Ethan has to be carrying a knock but Berkeley-Agyepong… really? I'd have Harry P and give Alfy some game-time from the off – notice KLF gets in again. No Santos on the bench either despite claims earlier that aside James Rowe and Ollie O'Dwyer, there was a full squad to choose from.
18:50pm
18:28pm
Team news shortly…
18:10pm
With just five EFL Cup games on tonight, the National League fixtures should make the Sky Sports vidiprinter! A league or two higher and you'd get team news. As it is, we rely on social media for the team line-ups from Meadow Park which I will post as soon as I have them.
16:47pm
Shots fans on coach and in cars and on train well on their way to Meadow Park. Just watched an episode of Minder, Senior Citizen Caine that had Gillian Taylforth AND her sister Kim in it.
Terry: "We're going out on the river on Cecil's boat".

Arthur: "What's it called?"

Terry looks at Cecil.

Cecil : "The Thames"
Taken at Teddington Lock, That's Lionel Jefferies (Cecil) with Arthur.
14:08pm
I hate not being at a game. Sat indoors with daytime TV. Watching the telly but NOT thinking about your holidays. Wondering what team we'll see later and fearing the worst.
ORIGINAL POST
I did try. There was a hotel room at £64 in Woking and I could have done the whole Boreham Wood trip for around £150 which is as much as I paid Saturday to watch us fall to a last-minute defeat.
I have been very strong in deciding to avoid tonight. Who knows what will happen. If we lose there it will be a really miserable atmosphere come Saturday next when we ought to be getting three points against Maidenhead, surely?
So, later tonight, I will update this post with all the latest NL scores and start with a preview of the games.
Boreham Stoopid v Aldershot

SEGREGATION

Having spoken to and taken advice from various bodies, including the safety advisory group and the Herts Constabulary police, as well as our own safety officer and chief steward, the decision has been made that Tuesday's game against Aldershot Town will be segregated and the bar will operate on a home supporters only basis. Away supporters must enter the ground via South Stand entrance turnstiles.

Having sought advice from experts and experienced members of the league, Boreham Wood believe that segregation is the best and safest way to operate this fixture.

TICKET INFORMATION

Ticketing prices will be as follows for those who purchase in advance (subject to booking fee): –
Adult – £18.00
OAP – £13.00
U16 – £8.00
U12 – £5.00

Prices on the day consist of: –
Adult – £20.00
OAP – £15.00
U16 – £10.00
U12 – £7.00

Twenty quid on the day! These tinpot town football clubs really do have delusions of grandeur. I'll be at home in the warm and might even find my slippers and pipe.

What team will they put out tonight?

This is my hope:

Walker, Tinkler, Hunt, Finney, Kinsella, Powell, Santos, H Panayiotou, Mullings, Chislett, Rance, Bettamer

Referee:

Tomorrow's referee is Matthew Russell, who has taken charge of 5 National League matches so far this season, with his most recent fixture being Stockport County's 1-0 away victory last Saturday over Dover Athletic.

Commentary:

There will be live BBC Surrey Sport commentary of Saturday's game, with Rob Worrall and former Shots midfielder Damon Lathorpe from 7:30pm. To interact with the commentary team, tweet @RobShot66.
Bromley v Stockport County
County face arguably their toughest test of the season so far on Tuesday night as they travel to league leaders Bromley looking for a third straight win in the National League.
Saturday's impressive 1-0 win at Dover, capped by a superb Frank Mulhern strike, saw the Hatters make it three League matches unbeaten in the month of October, moving them on to 24 points from our opening 17 games this season – an identical record to last season.
Whilst that win didn't move County up in the League table, as we remain in 17th place, they now sit eight points clear of the relegation zone – and just four points shy of the play-off places, with a game in hand on the vast majority of teams in and around them.
A win in London tomorrow night could see the Hatters move back into the top half of what is an incredibly tight National League table, with the potential to move as high as 11th should other results go their way.
Chorley v Ebbsfleet
RECENTLY
The Magpies continue to scrap for points in an attempt to climb away from the bottom of the table. The same can be said of Ebbsfleet, who moved ahead of Chorley on goal difference over the weekend after winning late on at Sutton United.
IFS AND BUTS
If Chorley secure the points opponents Ebbsfleet will once again be marooned at the foot of the National League going into November.
But a victory for the visitors would condemn the Magpies to another few days at the bottom ahead of the weekend's fixtures.
VERMO SAYS
Ebbsfleet had a good win on Saturday as well as last midweek, going to Woking and getting through that Cup replay, so they'll no doubt be coming up here full of confidence. Like us they are down at the bottom of the table for a reason and no doubt itching to get more wins to climb the table. We know we've got to improve from Saturday to pick up an important three points before heading into three difficult away games to start November. It won't be easy but the lads will be ready and we're confident.
Dagenham and Redbridge v Barrow
No online previews found for this one but I can tell you that the Daggers programme shop will be open from 1700pm – how exciting!
Dover v Eastleigh
Similarly, on the day of the game, go to Dover's website and click on match preview – nothing – just a photo! I'm starting to think that maybe ATFC official website isn't the worst.
Harrogate v Barnet
Again, no preview available on either clubs websites although Barnet's Vanarama National League fixture against AFC Fylde at The Hive London on December 7th has been selected for BT Sport coverage.
The match will now take place with a later kick-off time of 17:20 on Saturday, December 7th at The Hive London and will be broadcast live on BT Sport.
Maidenhead v Fylde
Well done Maidenhead! A proper decent preview and this is a massive game for us Shots fans given the league table:
The Magpies are back at home within a matter of days as Fylde travel to Berkshire tonight.
Fresh from a Remy Clerima winner against Solihull Moors on Saturday, the hosts will now look to earn successive wins at York Road for the first time this season.
Visitors Fylde though were able to a end a run of four consecutive league defeats with an away win at Boreham Wood, and will now to look to win again to rise up the league.
Recent form
Performances and results have both drastically improved in recent weeks, as the Magpies have recorded three wins from four in all competitions.
Firstly, two huge Ryan Upward goals were enough to dispatch Ebbsfleet, and then earn a replay at Wealdstone in the FA Cup fourth qualifying round.
Josh Kelly was also able to open his scoring account for the campaign with a brace in the replay, as the Magpies set up a Rotherham tie in the next few weeks. Their improved form culminated in an impressive victory over play-off chasing Solihull Moors last weekend.
After a threatening second-half performance at York Road, Danny Whitehall picked out Remy Clerima, and he found the net emphatically. The goal was scored in the third minute of stoppage time, and sent the home fans into raptures.
Looking ahead, after an indifferent run of home results this season, Alan Devonshire's side will hope that they can show that level of character in the rest of their fixtures.
The opposition
The Coasters have struggled for results this season, and are currently 19th In the Vanarama National League.
They had recently recorded a run of four consecutive league defeats, but a change in management inspired a change in fortune as they won at the weekend.
Goals from Andy Taylor and a late Daniel Bradley finish secured the victory at Meadow Park, and they also have a game in hand to play.
The club recently parted company with manager David Challinor after an eight-year spell, with Brett Ormerod and John Hills taking temporary charge. Yesterday Morecambe manager Jim Bentley resigned to take charge at Mill Farm.
They've been unable to match the expectations they set themselves in the last two National League campaigns. After finishing in seventh and fifth in 2017-18 and 2018-19 respectively, they were beaten 3-0 in last season's play-off final by Salford.
They'll now want to get up there again, and as they're only nine points behind seventh placed Torquay, it's still possible at this stage of the season.
Last time out
Maidenhead will target revenge at York Road as the Coasters ran riot in the corresponding fixture last season, in October 2018.
The visitors netted six times with no reply: Danny Rowe scored a brace and that included a penalty, whilst Gime Toure, Serhat Tasdemir, Danny Philliskirk and Andy Bond were all also on target.
The Magpies improved in March's return fixture, but still left Mill Farm on the losing side.
The visitors took the lead in the tenth minute, as Ryan Upward's fine volley gave them an early reason to smile. The promotion chasing Coasters were able to rally back though and scored twice either side of half-time to clinch a win. Danny Rowe equalised, whilst Tom Crawford put them ahead in the 57th minute.
Final note
Visitors Fylde will try to earn consecutive wins in the league for the first time since late September, and could go above Chesterfield with a win. Maidenhead though will finally seek consistent home form and will want to win again at York Road. They will secure 27 points with victory, and that could take them back up to eighth.
Sutton v Halifax
The last thing we need is Sutton winning tonight but given Halifax's capitulation at Bromley, we shouldn't be too surprised if it happens.
FC Halifax Town head to strugglers Sutton on Tuesday (7.45pm) aiming to bounce back from their 5-0 thrashing at Bromley.

Halifax have lost three of their last four games, and six of their last 10, and have only scored once in their last four matches.

But they remain third in the table, and will climb back up to second if they win at Gander Green Lane.

Only Dover have won more away games than Town in the division, but The Shaymen have shipped nine goals in their last three matches having kept three clean sheets in a row before then.

Former Sutton head coach Matt Gray was appointed as successor to long-serving Paul Doswell in May but has so far guided the club to only three wins in their first 17 league matches, losing seven and drawing seven.

Only Aldershot and Chorley have scored fewer goals than Sutton, who have only won once in nine home games this campaign.

Midfielder Harry Beautyman is their top-scorer with six goals. They are without a win in seven and were dumped out of the FA Cup 5-2 by Billericay recently after a replay.

They come into the game on the back of a 3-2 home defeat to fellow strugglers Ebbsfleet. Having twice battled back in the game after falling behind, Sutton lost thanks to a 90th minute penalty.

Left-back Jerome Binnom-Williams will miss the game through suspension after being sent-off for two yellow cards at Bromley, meaning Pete Wild may switch Michael Duckworth to left-back and hand Jacob Hanson his first start at right-back since the 2-1 defeat at Hartlepool on April 19.
Torquay v Wrexham
Wrexham come into the game on the back of a 2-1 defeat to Dagenham & Redbridge last Saturday. Angelo Balanta opened the scoring in stoppage time of the first half, before Luke Young restored parity six minutes into the second. The fightback lasted just over five minutes however, with Chika Kandi restoring the Daggers lead to leave the Dragons with nothing for their efforts.
Torquay took part in a six-goal thriller in Devon on Saturday, as they sent Barrow packing in a 4-2 win. A brace from Jamie Reid and Armani Little saw off the Bluebirds in an entertaining game at Plainmoor.
The Gulls have lost just once in their last six games, including a victory in the FA Cup and currently occupy the final play-off spot, after gaining promomtion from the Vanarama South last season.
Woking v Notts County
Woking started the campaign very brightly, recording victories in seven of their first eight, but they haven't won in 12 games in all competitions.
They're still sixth in the table, though, and Neil Ardley is keen to avoid the encounter becoming open, feeling the Cards' athleticism is one of their main strengths.
"They show a lot of energy and have individual qualities one-on-one so they'll cause lots of problems if we get stretched," he added.
"They're a team with great energy and a lot of strong runners who are very athletic.
"They've probably surprised a lot of teams but you can see why they've won games, so we'll have to be on our guard and do a lot of things right."
The boss confirmed that Connell Rawlinson returned to training on Monday and could be available after missing out at the weekend, but a late decision will be made on Nathan Tyson, who is suffering with illness.